Insurance and Bonding That Mean Business
As a contractor, you know quality insurance and bonding are necessary to secure quality jobs.  The expertise, the support and the service you get from Morrow Insurance Agency takes that fact-and your business-even further.
With Morrow, you receive the level of insurance and bonding you need to run your contracting business with confidence today, and you get a breadth of industry knowledge and a depth of support that help you grow your business for tomorrow.
  
 

"Having been involved with several agencies during my career, I can say that Morrow is truly a leader in their field and in particular as it relates to the meets of many of the most successful general contractors in this region."

Thomas L. Cooper

Cooper Construction Company
Benefit from Our Expertise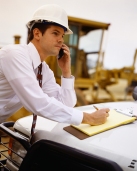 Morrow Insurance has been servicing businesses since 1919.  As an independent agent, we represent more than 25 insurance companies and 10 surety underwriters.
We are members of NASBP (the National Association of Surety Bond Producers), meaning we have proven that we provide the highest level of professionalism in expertise in surety.
Morrow Insurance has a division dedicated solely to servicing the contracting industry–so your Morrow agent knows your industry inside and out.  We're here as a partner to help you.
Over the decades, Morrow Insurance has earned a stellar reputation in insurance and bonding.  As our client, you will take that reputation into the marketplace with you.
  
 

"In today's ever-changing construction market, teaming with an insurance and bonding agent who is flexible and quick to react is critical–Morrow Insurance meets those needs!"

Tim Emory

Emory Electric, Inc.

 
Benefit from Our Support
Because Morrow has handled so many insurance and bonding needs for all sizes of contractors, you can count on your agent to have the training and the experience to give you extraordinary business support.  In addition to helping you manage risk, Morrow agents can provide you with:
Help in navigating different government agencies
Advice in management and financial decisions
Help in analyzing financial statements and cash flow
Understanding construction and contract/subcontract law
Knowledge of local, regional and national construction markets
Networking within the community
…and much more
  
 

"Bonding and Insurance for contractors requires knowledge of the industry and flexibility. Morrow Insurance has been our agent for more than 17 years, and we depend on their expertise."

Bill Stillwell

Stillwell Enterprises Inc.

 
Benefit from Our Service
At Morrow Insurance, our agents are some of the most experienced professionals available.  Most choose to practice with Morrow because our firm encourages true relationship building.  They know you.  They know your business.
So they know the best strategies to help you achieve your success.  At Morrow Insurance:
Your insurance and bonding packages are custom designed to meet the needs of our business–never the other way around.
Your agent is your agent, building a one-to-one relationship that insures you get the coverage you need and helps your business grow.
You get the benefit of an independent agent, meaning your agent can shop for the best policies and bond programs from the finest companies at the best pricing available.
You are never far from an office.  Morrow has four locations throughout the Western Carolinas region–Hendersonville, Brevard, Marion and Charlotte.
Most important, however, is that your Morrow agent is on-call for you whenever you need for whatever you need.  We pride ourselves on our extraordinarily quick response.
For all your bonding needs contact Brett Shaffer at (828) 694-5195 or bshaffer@morrowinsurance.com